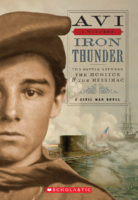 Early in 1862, when his father is killed fighting for the Union in the War Between the States, thirteen-year-old Tom Carroll must take a job to help support his family. He manages to find work at a bustling ironworks in his hometown of Brooklyn, New York, where dozens of men are frantically pounding together the strangest ship Tom has ever seen. A ship made of iron.
Tom becomes assistant to the ship"s inventor, a gruff, boastful man named Captain John Ericsson. He soon learns that the Union army has very important plans for this iron ship called the Monitor. It is supposed to fight the Confederate "sea monster" — another ironclad — the Merrimac. But Ericsson is practically the only person who believes the Monitor will float. Everyone else calls it "Ericsson"s Folly" or "the iron coffin."
Meanwhile, Tom"s position as Ericsson"s assistant has made him a target of Confederate spies, who offer him money for information about the ship. Tom finds himself caught between two certain dangers: an encounter with murderous spies and a battle at sea in an iron coffin...
Illustrated with period photos, drawings, and maps.
Praise for Iron Thunder: The Battle Between the Monitor & the Merrimac
"Factual information and historical terms are woven smoothly into the narrative. Period photographs, engravings, and newspaper headlines are strategically placed throughout the text to further bring history to life. A glossary provides added clarity, and an author's note explains that although Tom Carroll really existed, the boy in this story is a compilation of several people on the ship and the author's imagination. This exciting, fast-paced historical adventure will add a bit of drama to Civil War units. Even reluctant readers will appreciate it." — School Library Journal
Praise for Hard Gold: The Colorado Gold Rush: A Tale of the Old West
"The chapters are short and broken up into diary format so as to mimic travel journals of the early wagon train adventurers. A rewarding addition." — School Library Journal
"The I Witness series strives to make history more appealing by presenting fiction decked out with an array of nonfiction trappings: maps, diagrams, period photographs, and a multitude of paintings.' — Booklist
Ages

8, 9, 10

Interest Level

Grades 3 - 5

Number of Pages

224

Genre

Adventure, Historical Fiction
About the Author
Avi
Avi, named by his twin sister Emily, has published over 30 children's books since he began writing them in 1970. His books aim to engage reluctant readers, as he himself overcame many difficulties in his effort to become a writer.
The Reading Toolkit