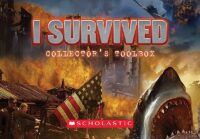 More epic tales of survival in the bestselling I Survived series. This boxed set contains a Survival Tool and ten I Survived paperbacks and a survival tool!
I Survived the Sinking of the Titanic, 1912 I Survived the Shark Attacks of 1916 I Survived Hurricane Katrina, 2005 I Survived the Bombing of Pearl Harbor, 1941 I Survived the San Francisco Earthquake, 1906 I Survived the Attacks of September 11, 2001 I Survived the Battle of Gettysburg, 1863 I Survived the Japanese Tsunami, 2011 I Survived the Nazi Invasion, 1944 I Survived the Destruction of Pompeii, Ad 79
Ages

8, 9, 10, 11, 12

Interest Level

Grades 3 - 7

Publisher

Scholastic Inc.
About the Author
Lauren Tarshis
Lauren Tarshis is the editor of Scholastic's Storyworks magazine and the author of the I Survived series and the critically acclaimed novels "Emma-Jean Lazarus Fell out of a Tree" and "Emma-Jean Lazarus Fell in Love."
The Reading Toolkit