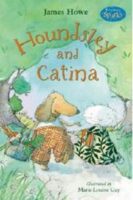 Houndsley And Catina
by James Howe Illustrated by Marie-Louise Gay
The subtle dance of friendship is played out in three sweetly humorous tales about an unlikely, likable pair. Howe's funny and endearing world of ginger tea, no-bean chili, and firefly watching is brought to life in cozy watercolors by Gay in this tender chapter book about what it means to be friends.
Interest Level

Grades K - 2

Book Type

Beginning Reader Book
About the Author and Illustrator
James Howe
James Howe writes comical and amusing books for young readers. One of his most beloved boks to date is his first, Bunnicula: A Rabbit Tale of Mystery.
The Reading Toolkit