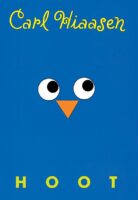 Roy Eberhardt is new to his small Florida community of Coconut Cove. Unfortunately, Roy's first acquaintance in Florida is Dana Matherson, a well-known bully. Then again, if Dana hadn't been sinking his thumbs into Roy's temples and mashing his face against the school-bus window, Roy might never have spotted the running boy. And the running boy is intriguing: he was running away from the school bus, carried no books, and — here's the odd part — wore no shoes.
Sensing a mystery, Roy sets himself on the boy's trail. The chase introduces him to potty-trained alligators, a fake-fart champion, some burrowing owls, a renegade eco-avenger, and several extremely poisonous snakes with unnaturally sparkling tails.
Roy has most definitely arrived in Carl Hiaasen's Florida.
"It seems unlikely that the master of noir-tinged, surrealistic black humor would write a novel for young readers. And yet, there has always been something delightfully juvenile about Hiaasen's imagination; beneath the bent cynicism lurks a distinctly 12-year-old cackle. In this thoroughly engaging tale of how middle schooler Roy Eberhardt, new kid in Coconut Cove, learns to love South Florida, Hiaasen lets his inner kid run rampant, both the subversive side that loves to see grown-ups make fools of themselves and the righteously indignant side, appalled at the mess being made of our planet. The story is full of offbeat humor, buffoonish yet charming supporting characters, and genuinely touching scenes of children enjoying the wildness of nature. He deserves a warm welcome into children's publishing." — Booklist
Ages

11, 12, 13

Interest Level

Grades 6 - 8

Lexile Measure

760L

DRA

60

Guided Reading

W

Publisher

Yearling Books

Number of Pages

304

Genre

Mystery and Suspense, Realistic Fiction
About the Author
Carl Hiaasen
Hoot, Hiaasen's first novel for young readers, was the recipient of numerous awards, including the prestigious Newbery Honor. The movie version of Hoot hit U.S. theaters May 2006.
The Reading Toolkit