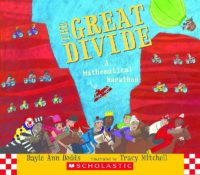 The Great Divide
by Dayle Ann Dodds Illustrated by Tracy Mitchell
In this story, eighty people begin to race in the Great Divide, but each new challenge divides the number of racers in half.
"Bang!" goes the gun. The race is on.
Eighty racers explode from the starting gate, determined to win The Great Divide. They surge ahead, rushing toward —OH NO! — the wide hungry mouth of a grand canyon that claims half the racers. And this is only the beginning. More dangers lie ahead, waiting to divide the group once, twice, three times, and more. Will there be anyone left to cross the finish line?
"In this crafty story of a cross-country race, numerical division accounts for the narrowing of the field. . . . All lessons should be this gratifying." --PUBLISHERS WEEKLY (starred review)
Ages

7, 8

Interest Level

Grades 2 - 3

DRA

30

Guided Reading

N

Number of Pages

32
About the Author and Illustrator
The Reading Toolkit