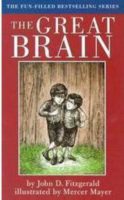 J. D. idolizes his older brother Tom, a.k.a. The Great Brain, a silver-tongued con artist with a genius for making a profit. No matter what the situation, The Great Brain will always find a way to turn it to his advantage — usually, his financial advantage. As boys growing up at the beginning of the 1900s, J. D. and Tom have plenty of scope for their adventures. When the Jenkins boys get lost in Skeleton Cave, the Great Brain saves the day. Whether it's saving the kids at school, or helping out Peg-leg Andy, or Basil, the new kid at school, the Great Brain always manages to come out on top — and line his pockets in the process. And while J. D.'s ingenuity may not equal his conniving brother's, as a narrator he is endearingly sympathetic and wildly entertaining. First published in the late 1960s and early 1970s, this classic series has been popular ever since. Join the amazing Great Brain and his befuddled brother as they continue to captivate generations of young readers.
Ages

8, 9, 10

Interest Level

Grades 3 - 5

Publisher

Tandem Library

Genre

Adventure
About the Author and Illustrator
Mercer Mayer
Mercer Mayer is the writer and illustrator for Little Critter First Readers, as well as Little Critter Spectrum.
The Reading Toolkit