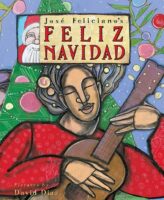 Feliz Navidad
by Jose Feliciano Illustrated by David Diaz
Set to the lyrics of Jose Feliciano's song "Feliz Navidad" and illustrated by Caldecott Medal winner David Diaz, this unique flip book features two different, yet traditional, Christmas celebrations!
"Feliz Navidad" is a bilingual song in Spanish and English--a perfect accompaniment to this book that teaches children about both a typical Caribbean parranda and a traditional winter Christmas feast in a fun, flip book format!
Join the parranda — a Christmas caroling party with traditional songs, instruments, and lots of delicious food! Children will learn about this typical Caribbean celebration, where family, friends, and musicians surprise their neighbors with nighttime caroling, travel from house to house gathering more and more guests, and end the festivities with an outdoor cookout!
Feliz Navidad es una cancion bilingue en espanol e ingles, escrita por Jose Feliciano, y es la acompanante perfecta de este libro que le ensena a los ninos, de una manera divertida, lo que es una parranda caribena y una fiesta navidena tradicional. Unete a una parranda llena de canciones navidenas tradicionales, intrumentos musicales y mucha comida. Los ninos aprenderan acerca de esta tipica celebra
Ages

4, 5, 6, 7, 8

Interest Level

Grades K - 5

Number of Pages

32

Genre

Poetry, Songs, Verse
About the Author and Illustrator
Jose Feliciano
José Feliciano was born on September 10, 1945 in Puerto Rico and moved to New York at age five. Being born blind never slowed this self-taught musician down. Feliciano is a six-time Grammy Award winner with 45 gold and platinum records. He is the recipient of Billboard's 1996 Lifetime Achievement Award and the Ricardo Montalban Lifetime Achievement Award. Feliciano wrote the lyrics for "Feliz Navidad" (released in 1968) when he was homesick for his native Puerto Rico.
David Diaz
Acclaimed artist David Diaz has been an illustrator and graphic designer for more than 20 years, and is recognized for his dynamic work in national publications, popular products, and literary works for children and adults alike.
The Reading Toolkit