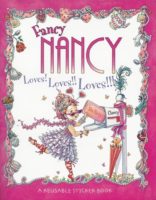 Fancy Nancy Loves! Loves!! Loves!!!
by Jane O'Connor Illustrated by Robin Preiss Glasser
Publisher

HR2 - HARPER COLLINS CHILD BKS

Number of Pages

12
About the Author and Illustrator
Jane O'Connor
Since the publication of "Fancy Nancy", Jane O'Connor's closet now boasts so many boas, tiaras, and sparkly ensembles that sometimes friends do not recognize her on the street. She still resides (that's a fancy word for lives) in New York City with her family and their canine companion, Arrow.
Robin Preiss Glasser
Robin Preiss Glasser is the illustrator of best-selling books like America: A Patriotic Primer and You Can't Take a Balloon into the Metropolitan Museum and its two sequels. She has also illustrated Super-Completely and Totally the Messiest and Alexander, Who's Not (Do You Hear Me? I Mean It!) Going to Move, both by Judith Viorst. Robin Glasser lives with her two children in Santa Monica, California.
The Reading Toolkit