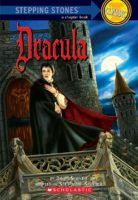 The classic story of Dracula still chills the soul. Dead for centuries...yet still he walks the earth. He is a vampire — brilliant, bloodthirsty, and cruel, hiding from the light of day and emerging at night to search for his next victims.
Hardworking Jonathan Harker travels to Transylvania to meet with the mysterious Count Dracula. After sleeping in Dracula's castle, he notices strange things about his host. Dracula's reflection doesn't appear in mirrors, he sleeps in a wooden coffin, and crawls down the castle wall like a spider. Soon Jonathan makes the grim discovery that the Count is no ordinary man.
This Classic Stepping Stone Book has been adapted to be easily read by young readers.
These high-interest chapter-book adaptations of the classics are sure to keep the most reluctant of readers engrossed. From the monstrous Frankenstein and Dracula sagas, to the invasion from Mars, readers will find spine-tingling adventure.
Ages

8, 9, 10

Interest Level

Grades 3 - 5

Genre

Classics, Horror
About the Authors and Illustrator
Stephanie Spinner
Stephanie Spinner is the author of "Aliens for Breakfast" and "Aliens for Lunch, " both with Jonathan Etra, "Aliens for Dinner, " and, most recently, "Damosel " a novel for young adults.
The Reading Toolkit