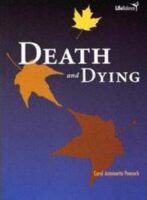 Preteens face complex issues on a daily basis. Before stress takes over,
Life Balance
helps them take control. This important series provides 10-13 year-olds with information, support, and concrete solutions to difficult problems. It also promotes a healthy mental attitude with high-interest topics such as yoga and dreams. Each book provides a list of organizations, books, videos, and sources for more information.
In this book, the author describes simple, specific actions that help to ease the pain of death and dying.
Series Features
• Tackles tough preteen issues with reader-friendly information and advice
• "Further Resources" list includes books, websites, and organizations that can help
• High-interest topics
• Sidebars and features for added interest

• Glossary

• Index

Ages

10, 11, 12, 13

Interest Level

Grades 5 - 8

Publisher

Franklin Watts

Number of Pages

80

Genre

Informational Text
The Reading Toolkit