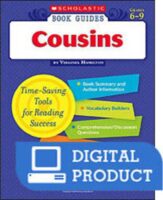 Book Guide: Cousins
by Virginia Hamilton
It's almost like a dream. One day after sneaking a visit to Gram in the nursing home, Cammy gets caught in a lightning storm. She is forced to seek shelter at the home of her enemy cousin, Patty Ann, and her mean Aunt Effie, who criticizes Cammy as she takes her clothes to dry and gives her a towel. Soon the two girls exchange insults, and their fight escalates until Cammy finds herself fleeing into the storm with her clothes in her arms. Back in the safety of home it would seem the bad dream is over, but it's just begun.
The next morning the enemy cousins ride the bus to day camp with another cousin, Elodie. Their teacher gives the children permission to descend the steep cliff to the Little River. Elodie is the first to reach the swollen river, and when she throws her shoe to the bank it bounces into the rushing water. Elodie tries to retrieve her shoe, but she loses her footing and begins to be swept away. It is Patty Ann who goes to her rescue. After a fierce struggle, she saves Elodie, only to be too tired to save herself. After Patty Ann's death, Cammy seems to be drowning in grief. Her father returns home to help the family cope, and her Gram makes a heroic journey from the nursing home. At last, with the love of her family close at hand, Cammy is able to save herself from despair.
Virginia Hamilton is one of America's most revered writers of children's books. In 1992, she won the Hans Christian Anderson award for her body of work. Cousins was named an American Library Association Best Book for Young Adults, a Booklist Editor's Choice, a Notable Children's Trade Book in the Field of Social Studies, and made the New York Public Library's list of One Hundred Titles for Reading and Sharing.
Ages

9, 10, 11, 12

Interest Level

Grades 4 - 7

DRA

50

Guided Reading

T
About the Author
Virginia Hamilton
Virginia Hamilton received the 1992 Hans Christian Andersen Medal, the most prestigious international award in children's literature. She also won the Newbery Medal, three Newbery Honor Awards, two Coretta Scott King Awards, an Edgar Allan Poe Award, and was the first children's author to receive a MacArthur Foundation "a genius" grant in 1995.
The Reading Toolkit