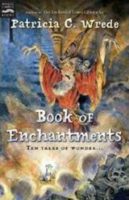 Book of Enchantments
by Patricia C. Wrede
Here is a collection of ten whimsical and magical fairy tales and fantasy stories that highlights the strengths of female characters. The stories range from "The Princess, the Cat, and the Unicorn," and "The Sixty-two Curses of Caliph Arenschadd," two quirky tales about princesses, to "Stronger Times," a haunting spin on Sleeping Beauty, and "Cruel Sisters," a terrifying tale of a sister's drowning. Other noteworthy stories are "Roses by Moonlight," an exploration of humanity, "The Lorelei," about time-old supernatural occurrences, and "Utensile Strength," a cheerful tale of an eccentric wizard.
A fun collection of short stories that will be a worthwhile addition to an elementary-school library.
Ages

12, 13, 14, 15, 16, 17, 18

Interest Level

Grades 6 - 8

Genre

Short Stories, Fantasy
About the Author
Patricia C. Wrede
Patricia C. Wrede is the author of the beloved The Enchanted Forest Chronicles series as well as Mairelon the Magician, The Magicians Ward, and, with Caroline Stevermer, Sorcery and Cecelia, The Grand Tour, and The Mislaid Magician. She lives in Minnesota.
The Reading Toolkit