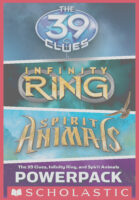 The 39 Clues, Infinity Ring, and Spirit Animals Powerpack
by Rick Riordan, Brandon Mull, James Dashner
Available together for the first time, three novels that each launched a blockbuster series. This powerpack includes: THE 39 CLUES #1: THE MAZE OF BONES by bestselling author Rick Riordan. Are you ready to save the world? INFINITY RING #1: A MUTINY IN TIME by bestselling author James Dasher. Fix the past. Save the future. SPIRIT ANIMALS #1: WILD BORN by bestselling author Brandon Mull. The legend lives in you. Three unforgettable adventures are waiting for you....
Ages

8, 9, 10, 11, 12

Interest Level

Grade 7

Publisher

Independent Publishers Group

Number of Pages

1000

Genre

Adventure, Fantasy, Science Fiction
About the Authors
Rick Riordan
Author of the Percy Jackson and the Olympians series, and The 39 Clues series. His books have won many accolades including a mention on the 2005 New York Times Notable list for "The Lightning Thief". Rick lives with his family in San Antonio, Texas.
Brandon Mull
As a child, Brandon Mull wanted to explore other worlds through wardrobes and rabbit holes. When that did not work out, he resorted to daydreaming about such adventures instead. Inspired by the Narnia books and The Lord of the Rings series, Brandon explored imaginary worlds in his mind.
James Dashner
James Dashner is the New York Times bestselling author of the Maze Runner trilogy and the 13th Reality series. Born and raised in Georgia, he now lives with his family in the Rocky Mountains. Learn more at his website, www.jamesdashner.com.
The Reading Toolkit