Invite your students, parents, and staff to wander into an Enchanted Forest Book Fair, the Scholastic Book Fairs® featured theme for fall 2018. It's a whimsical place full of irresistible books kids can't wait to read so their imaginations can grow!

Welcome your students through a hollowed-out tree into a forest created to spark the imaginations of kids everywhere. Students can make woodland creatures, mythical masks, and crafts for Book Fair décor Then encourage kids to dress up for special themed days – be a favorite character on Make-believe Monday or wear green on Forest Friday.

With simple costume props, transform your volunteers into friendly Book Fairies who guide students through the Fair, helping them find the perfect books to add to their home libraries.

Plan an All for Books™ Coin Quest where classes compete against each other in collecting change to purchase books from the Fair. Create wishing well coin collection containers to place throughout the school. Set up a Unicorns versus Dragons challenge where students vote for their favorite character.

As always, reach out to your entire school community! Invite parents to fun morning events – Merry Monday With Moms and Donuts, Dragons, and Dads. Host an evening Once Upon a Time Family Event with read-alouds, a woodland photo op, and a pot of gold game toss.

Everyone knows that no enchanted gathering is complete without a Book Fairy grandmother or godmother or two! So invite grandmothers, grandfathers, and other loved ones to a Never Grow Up Grand Event. Students and loved ones can enjoy a picnic lunch in the enchanted forest before setting off in search of books.

There's a time when a child falls in love with a book . . . and then reading. Your Book Fair may just be that "once upon a time" for your students. Capture kids' imaginations in fall 2018 with a forest full of tales and inspiring, "happily ever after" results!

---
Middle School Theme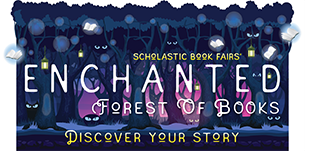 Let your school create its own reading adventure next fall deep within Scholastic Book Fairs® Enchanted Forest of Books: Discover your story. Students, parents, and staff can wander through an unexpected world that holds a book for every visitor with every sort of interest.
Everyone will be talking about your upcoming Fair once you post an oversized scroll outside the space, counting down the days to its opening. Once the day arrives, welcome your students through a hollowed-out tree to an enchanting door leading to wherever students' imaginations take them. LED lights, hanging lanterns, and suspended books appear to float in the air. Fluorescent plants, giant mushrooms, and foliage create a wondrous woodland scene, while forest creatures' spying eyes peek between branches.
Engage more student participation at your Book Fair with captivating games and photo opportunities. Invite students into Webs of Adventure and Mystery by encouraging them to reach into bookcases layered with spider and cobwebs. Paint a repurposed, ornate mirror with vines, crowns, and creature shadows for a "mirror, mirror" photo op where students can capture a reflective photo of themselves.
Get your faculty involved while filling your classrooms with books. Place an "I wish I may, I wish I might" Classroom Wish List display in a prominent area in the Fair. Snap photos of teachers wearing fairy wings, face paint, or other fairy creature inspiration and post with written, enchanted wish lists of books.
When you lead your school community into an imaginary, whimsical world of books, anything is possible. May your Fair capture the imaginations of all your students next fall, sending them on a path of lifelong reading.