The Spring 2018 theme is sure to make your tail wag!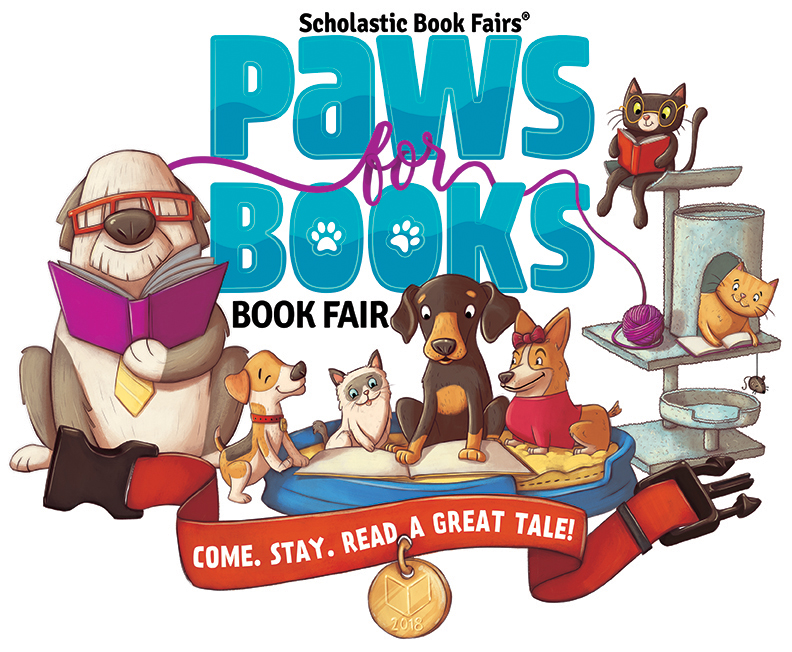 This spring, follow your furriest friends to the Paws for Books Book Fair: Come. Stay. Read a Great Tale! Find purr-fect books and a dog-gone good time as your staff, students, and their parents sniff out books from Scholastic and other publishers that will make their tails wag!

Lead your students into the Book Fair with paw prints drawn in chalk that welcome them to a pet-friendly entrance—a backyard oasis with oversized cat and dog toys, collars, dog bones, food and water bowls, trees to climb, a refreshing pond, and a dog house. Paint words like "meow" and "ruff ruff," and include cut-outs and images of different breeds of cats and dogs. The paws-ibilities are endless!

Once inside, don't be afraid to let the cat out of the bag and fill it with books instead! Get students participating in the Book Fair by hosting fun activities and contests. Plan a photo contest where students have to match the teachers with their pets. Fill a jar with fish-shaped crackers as a Meow Mystery Guessing Game, and have students make dog and cat ears to wear while eating trail mix labeled as puppy or kitten chow!

For your All for Books™ campaign, coordinate a Top Dog Coin Challenge where classes compete against each other to collect the most coins to purchase books from the Fair. Consider partnering with a local reading dog organization as a prize—the class that collects the most coins gets to read to dogs! And everyone has a favorite pet—let them vote for cats or dogs with coins in a this-versus-that challenge.

And be sure to include your school community! Welcome loved ones to the Book Fair with a simple Kitty and Canine Café, or plan an after-school or evening Books and Barks Family Event with a build-your-own chili dog station, a cat-and-dog photo op, and a doggie bone game toss.

We're not kitten, we can't think of a better way to get kids excited about reading! Don't miss out on this spring's Book Fair, where every dog has its Book Fair day and books are the cat's pajamas!