How a Principal Can Help Students Own, Read, and Love Books
Contributed by Dr. Chris Deibler, principal, Pound Middle School, Lincoln, Neb.
Ensuring all students have something to read and an opportunity to read it: These are some of my goals as an educator. The more students read, the more vocabulary they retain, the greater their ability to decode and comprehend text, and the greater their ability to achieve any goal.
Book Fairs help put my students on a path that leads to a love of reading. From the studentsí viewpoint, the Book Fair gives them the opportunity to own a book, read it, and love it. The book is first theirs and then becomes a part of them.
I see that transformation. Every day when I visit the cafeteria, students carry in their books. Itís not just a lunch break for them; itís a reading break, a chance to escape into another world to which their eyes have been opened.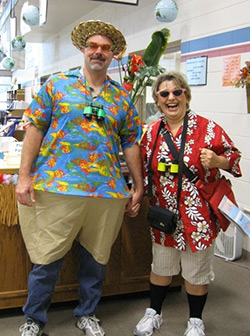 The Book Fair is a natural overflow of our school culture, one that flows not just into academic achievement but also into student-faculty relationships and family engagement. Here are some low-stress ways we take advantage of our Book Fairs.
Make sure every student Ė especially those living below the poverty level Ė gets at least one book from the Fair. Each season, our students look forward to a locker lottery through which I covertly provide locker numbers of students whom I know could use a hand. The winning locker number is posted on a sign outside the media center, and the winner can come in and pick a book thanks to proceeds from a penny war. We also enlist adults as scouts at our Fair who engage with students to find out which books they would buy if they had money, and those scouts keep lists to ensure the students get the books they want. We fund our giveaways through penny wars and Scholastic Dollarsô earned during our Fairs.


Link your Fair to a schoolwide book-in-hand policy. If you require students to keep a book with them to read in downtime, your Book Fair is an accessible, affordable venue for providing access and choice.


Maintain contact with your Book Fair chairperson year-round. I talk to our chairperson, library media specialist Darla Reinwald, every day of the school year so weíre always on the same page about promoting literacy among our students.


Make Book Fairs an extension of your ongoing literacy activities. How Darla promotes literacy! She and media secretary Roxane Hiatt dress up as story characters and do sketches to promote the library and reading for each grade level. Our school is abuzz with literacy activities at lunchtime and after school, and our library is the hub of it all. Kids who get excited about a book they buy at the Book Fair very well could end up in an after-school book club. Darla has done such a great job since taking over our library that we went from having the lowest checkout rate per capita in our area to one of the highest. We make literacy exciting.


Let the excitement trickle down. We donít do big rallies or set goals to create excitement among students. Instead, our faculty Ė starting with me Ė exudes excitement about our upcoming Fair. The energy is palpable in our announcements and our interactions with students. Itís not unusual for me to wear a crazy hat or to have my picture morphed into the image of an animal, giving students a chance to guess who I am. Even our students will dress like story characters and will parade around wearing sandwich boards to promote our Fair.



Every Fair should be a fiesta. We infuse every Fair Ė Book Fair Fiesta or otherwise Ė with a festive atmosphere. Think ďpartyĒ complete with music and eye-popping decorations.


Link your Fair to parent conferences to increase family engagement. In doing this, we accomplish two things at once, with each event complementing the other. The difference is that conferences typically last an hour, while Book Fairs last a week. Make the most of that week. When parents attend the conference, they get green tickets they must fill out with their students. Then they have to take the long walk from the conferences to the library Ė and this is deliberate, because I often walk and talk with them Ė and they will deposit the tickets outside the media center to enter in a drawing for a free product from the Book Fair. Their children have completed their wish lists during class time, so parents can readily shop. I even go in and shop myself for my three grandchildren, so I continue to interact with parents.


Get students involved. The members of our Good Character Committee and our Student Council are public service animals who are always looking for ways to help somebody. We enlist their help wherever possible. At our December Fair, for instance, they offer free gift-wrapping. Books, after all, are gifts that keep on giving.


Encourage parents to download the new Book Fairs App. Iíve already downloaded this free app to my phone. When I show parents how they can download it onto their phones, itís going to be a big deal because it will help them readily identify appropriate books for their children.


Never forget what books can mean to your students. A boy walked up to me with the biggest smile on his face and said, ďYou wonít believe it, but Iím the luckiest guy in the world. Iíve won the locker lottery for three years. I bet you wish you were as lucky as I am!Ē That moment is emblazoned in my memory because itís not really about winning; itís about having access to books. That reminds me of a comment I heard at a recent conference: Itís not just about teaching kids to read but about teaching kids to love to read. Thatís the heart of reading instruction, and thatís the heart of Book Fairs.