Raising Readers Program Teaches Parents
'You Are the Key'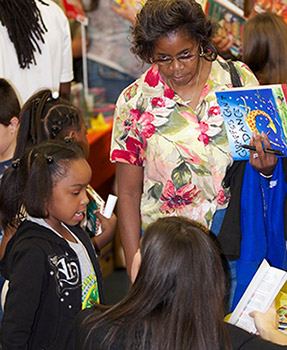 Scholastic Book Fairs' new, no-cost Raising Readers program cuts to the heart of reading instruction: reading stories as the centerpiece of reading instruction in the classroom and in the home. And through workshops and downloadable three-step handouts, parents learn the critical role they play in their children's education.
"You are the key," University of Central Florida Reading Education Professor Dr. Timothy Blair told hundreds of parents at Idyllwilde Elementary School. "You don't have to be an expert. You'll be one soon enough."
Tim then reviewed three simple steps that parents can easily apply in reading a book at their children's instructional level. He also demystified identifying right-fit books for children.
"This program is made up of three workshops where we'll teach parents of students from birth to Grade 2 strategies they can use at home," Tim explains. "They don't have to be expert readers. Look at sports. Some of the best coaches in sports have never played the game, but they're great coaches. Parents can be taught specific strategies and can make a big difference in their students' instruction."
Developed by Education Consultant Barbara Masley, the program can be presented either in a single 75-minute session or in three 30-minute sessions. In the "I Read To You" session, parents are given tips and techniques to use in reading to their children 20 minutes a day. In the "We Read Together" session, parents learn techniques have their child share the read-aloud experience with their children. The final session, "You Read to Me," helps parents learn more about helping their children find right-fit books.
A separate interactive session for educators titled "What Can I Do to Help My Child with Reading?" gives educators the tools to motivate adult family members to read at home both to and with their children and looks at the research that supports the home-school connection. The session also demonstrates the Common Core strategies that will work best for families when they read at home.
Says Barbara, "The home-school connection is paramount to educators. When parents are on board and working with their children, they continue to increase student skills and help them achieve success in school. When parents read at home with their children, they serve as a powerful model that will influence the way a child feels about reading. Involving parents in helping to implement some of the Common Core Standards exposes them to the importance of the English Language Arts curriculum, helps them become school-savvy and will assist them with asking relevant questions about student progress with literacy when they speak with educators."
As parents prepare to read with their children, they can start by looking at the cover. "Try to relate it to something familiar. Have kids guess what the story is about," Tim recommends. The longtime educator suggests a variety of ways to read the story, such as taking turns reading, stopping to discuss what's happening in a story, asking your child if a word with which he has difficulty makes sense to him, and not feeling compelled to finish a book in one sitting.
Another important element of the reading process is what Tim calls the five-finger technique. Every time a child mispronounces a word, the parent holds up one finger. Once the parent has five fingers up, that's the signal that it's time to select another book. "Children can be like swimmers who are not advanced but are thrown into the deep end," says Tim as he warns against breeding frustration in young readers.
As a follow-up activity, parents can ask children to evaluate their predictions about the book or summarize the story.
As the Idyllwilde Elementary workshop concluded, parents – armed with their children's instructional levels and a newly stocked arsenal of easy-to-use tools – went to join their children at the Book Fair, where they were now equipped to find right-fit books for their budding readers.
Assistant Principal Keaton Schreiner was encouraged by the turnout and the parents' responses. "Our students' parents used the tools and knowledge they gained from the workshop and dove right in by purchasing rich and engaging reading material for their children," he observed. "This has been one of the most well-attended events I've been a part of since working at Idyllwilde. Parents are still talking about it and how it changed how they view their role at home regarding engaging in reading activities with their children."
Citing research on the importance of parents reading to children, Tim is expecting promising results at every school where parents are empowered with the new tools. "By having that collaboration between the parent and the classroom, big gains are made because what is being taught at school is being reinforced at home," Tim shares.
Download no-cost resources for your own Raising Readers program here.