How a Reading Promise Can Forge Families and Shape Lives
It takes commitment – perhaps even a touch of stubbornness – to raise a reader. Just ask Jim Brozina, father of Alice Ozma, who details their 3,218-night read-aloud streak in her well-loved book
The Reading Promise
.
Jim's Tips for Parents

1. Kids will jump on your offer to spend more time together. Says Jim: "From the studies that I am familiar with, one of the greatest wishes teenagers have is that their parents would spend more time with them." Make the commitment.
2. Allow your child to choose the reading material, but be willing to offer guidance and review the material for appropriateness.
3. Make visiting Book Fairs, libraries, or bookstores a regular activity so you can keep stocked on fresh reading material.
4. Realize chapter books take more of a time commitment.
5. Recognize that television and electronic devices will have to take their place at the back of the line, and expect some push-back on that if habits are already entrenched.
6. Be firm. "When Spider would tell me, 'Dad, no reading tonight,' I would say, 'Fine. Go to your room. Your day is over.' No toys or distractions were allowed. As you can imagine, it wasn't long before she would say, 'Let's get started with reading.' She grew up to be a Yale graduate."
7. Remember that your role is to do more than watch your children grow. "You must actively play a role in their development," Jim says.
Jim, a retired librarian and media specialist, had always read aloud to Alice – whose middle names are actually Alice Ozma, both with literary roots – but the uninterrupted read-aloud streak didn't officially start until Alice was in fourth grade. "Once that started, we had a strict rule that the reading must last for at least 10 minutes each day or night, come what may, no excuses tolerated," Jim recalls.
Reading aloud, it turns out, was a tradition from Jim's own birth family. "My mother would walk us to the local library every two weeks. It was 1 1/2 miles each way. There we were permitted to check out two books each – one we were expected to read to ourselves and one she would read to us," he shares.
"Having her read to us made the stories come alive," Jim continues. "The stories I read to myself I can only vaguely remember. Her stories made a much greater impact on my imagination." Not surprisingly, Jim and his brother both became career librarians.
When Alice was little, her mother left Jim to raise Alice and her older sister as a single father. Reading became a coping mechanism, a teaching tool, and a bonding force for the struggling threesome.
"In retrospect, many of the books we decided to read together reflected the problems we were facing. When we saw our story characters were able to patch it together and carry on in a loving and caring relationship, I think it subconsciously brought us strength that we, too, could prevail and that better times were still ahead," Jim reflects.
Strong women were another dominant feature of their read-aloud time, dubbed The Streak. In her book, Alice talks often of her father's high regard for women, a view shared by favorite author L. Frank Baum of the famed Oz series. "Baum was raised by very strong women and had a great deal of admiration for what a woman is capable of doing if given a chance to show what she is made of," Jim reflects.
"The most powerful characters of many of his books are women who use their resources for both good and ill, but who never wait for some man to rescue them and take away their powers while they are carried off on horseback to become a barefoot housewife," he says. "This was a message I wanted my daughters to understand."
The message apparently got across loud and clear. Both Alice and her sister – Kath, affectionately dubbed Spider for her lankiness – embody the attributes of Baum's strong women. And Jim's family tradition most certainly will live on through Alice, whose day-to-day life as an author and a Scholastic Book Fairs® employee is committed to promoting literacy.
But Jim's legacy is one of more than literacy. It's one of a love for and commitment to family, demonstrated in sacrificial day-to-day priorities.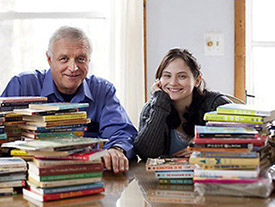 "Spider wrote to me many years later that she did not know of anyone who had the same relationship with her father as she did," Jim shares. "Time spent together, especially time spent doing things for your children – not just having them tag along while the parent is doing his own thing – is bound to make the child feel wanted and respected."
That time – expressed in their home through dedicated read-aloud time till the day Alice left for college – is what Jim views as a parent's most precious gift. "There are three things I am convinced a child needs to make the most of his or her God-given talents: a love of reading, exposure to culture, and at least one caring parent who will believe in the child and provide moral guidance," Jim states. "Alice had all three of these in large and heavy doses."
"I think of children as a farmer may think of prized seeds," he continues. "If planted in good, rich soil and watched over, the seeds will grow and flourish."