The Home and School Connection:
Eight Ways to Foster Wild (Lifelong) Reading Habits
By Donalyn Miller, fifth-grade teacher at O.A. Peterson Elementary, Fort Worth, Texas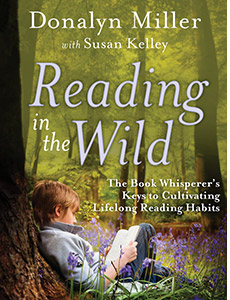 Research proves that avid, lifelong readers – or, as I like to call them, "wild" readers – have an academic (Krashen, S. D., 2004), professional (University of Oxford, 2011), and social (Iyengar, S., & Ball, D., 2007) edge over people who read less often. While we emphasize the importance of building lifelong reading habits at school, parents often need suggestions about encouraging reading at home.
Fortunately, the activities that develop independent reading behaviors are remarkably sticky and translate well to both home and school settings. Here are eight ways to foster wild reading habits at home that align with effective independent reading programs at school:
Model daily reading habits. As literacy expert Stephen Krashen reminds us, "Children read more when they see other people reading." Talk with children about what you are reading and why you find reading personally interesting and meaningful.


Set aside time for daily reading. If we value reading, we must make time for it. Children who read at least 20 minutes a day score in the top range on reading tests and express more motivation and interest in reading. Even short blocks of time every day are better than bursts of reading on a occasional basis.


Carry a book with you everywhere. When packing for trips or running errands, throw books and magazines into the suitcase or back seat. Carrying something to read helps ward off reading emergencies — those times when you are stuck waiting without anything to do. The No. 1 way adult readers rack up reading time is stealing short reading breaks in between other obligations. Carrying a book with them helps children capitalize on this often wasted time.


Provide a wide variety of reading material. Fiction and nonfiction, print and online magazines, graphic novels and comics — children need access to lots of texts that match their interests and reading ability. You never know what book or topic might engage a child with reading.


Read aloud with children. Sharing books with children — even teenagers — reinforces that reading is important and something you find personally rewarding. Through reading aloud, you send pleasure messages about reading and can share books with children that they may not be able to read on their own. With older children, reading together can provide a launching point for discussions and help you connect on a regular basis. Burdened with homework and after-school activities, many teens stop reading for pleasure. Reading together can keep them invested.


Visit the library often. Beyond free access to thousands of books, libraries offer qualified librarians and staff who can help match reading material to your child's interest and locate online and print resources to support children's needs. Most libraries host reading events and programs like summer reading clubs too. Alyson Beecher offers additional insight about libraries in her column this month.


Celebrate all reading. Children read more when they are given choices in what they read. When reading for pleasure, children should control their own book selection with your personal limits on content and topics as the only restrictions. Do not push children to read harder books, abandon picture books and comics, or limit their choices by reading levels when selecting pleasure reading books at the library or bookstore.


Limit screen time. The more time children spend using electronic devices and watching television, the less they read. While children need digital literacy skills, reading websites and surfing online don't provide the same vocabulary development or reading stamina that reading books and magazines do. If children read e-books on electronic devices, shut off Internet access and limit other features during daily reading time.
To build strong reading habits, children need consistent support both at school and home. Helping parents foster independent reading at home provides families with manageable, easy-to-implement advice that mirrors the same support teachers and librarians provide at school and builds a reading community between school and home.
Sources Cited:
Iyengar, S., and Ball, D. (2007). "To Read or Not to Read: A Question of National Consequence." Washington, D.C.: National Endowment for the Arts, Office of Research and Analysis. Retrieved from
http://www.nea.gov/research/ToRead.pdf
Krashen, S.D. (2004). The Power of Reading: Insights from the Research (2nd edition). Portsmouth, N.H.: Heinemann.
University of Oxford. (2011, April 8). "Reading at 16 Linked to Better Job Prospects." Retrieved from
http://www.ox.ac.uk/media/news_ stories/2011/110804.html
Donalyn Miller has worked with a wide variety of upper elementary and middle school students and currently teaches fifth grade at O.A. Peterson Elementary in Fort Worth, Texas. In her popular book,
The Book Whisperer
, Donalyn reflects on her journey to become a reading teacher and describes how she inspires and motivates her middle school students to read 40 or more books a year. In her latest book,
Reading in the Wild
, Donalyn collects responses from 900 adult readers and uses this information to teach lifelong reading habits to her students. Donalyn currently facilitates the community blog,
The Nerdy Book Club
and has been a frequent contributor to
Reader Leader
. Her articles about teaching and reading have appeared in publications such as
The Reading Teacher, Educational Leadership, and The Washington Post
. To order the book, click here.