'Scholastic Doesn't Sell Books; It Gives Kids Life'
Editor's Note: The following is an excerpt from a letter written by Dr. Michael Shaffer, an assistant superintendent in New Haven, Ind., about why he supports Scholastic Book Fairs®. Michael is a member of the Scholastic Book Fairs Principal Advisory Board.
Over the years, my schools have hosted tons of Scholastic Book Fairs. There is nothing in the world that compares to the sheer excitement in my students' eyes when they walk in the door and see the big gray metal cases that they have come to know means that it is Scholastic Book Fair time!
You see, here is a secret that many people don't understand about students and Scholastic. Many of my kids, who come from high-poverty neighborhoods and very diverse backgrounds, will never set foot in a mall bookstore. Why? Because often their parents are not comfortable in a bookstore. They walk right on past when they don't see a kids' section and then head for a toy store!
Scholastic Book Fairs brings the bookstore to my neediest kids, and my kids absolutely love the experience. My focus is never on how much money we can make from our Book Fair. Instead I ask, "How many of my kids will go home tonight with a book and fall asleep while reading with a flashlight under the covers simply because they cannot put the book down?"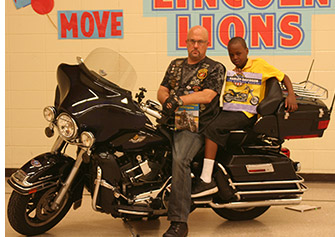 Like many principals and teachers, I have personally bought hundreds of dollars worth of books and given them to kids who had none at home. Let me tell you what I learned this summer about one family that has benefitted. Over the course of three years, I had given this family with nine children a lot of books. I handpicked each book for the express reason that the family needed books, a gift I love to give.
I stopped by the family's home this summer with a large bag of books that I had again handpicked from Scholastic – books for Tommy, the oldest boy, along with his little brothers, and their one little sister. I was not invited inside, so I stood on the porch and talked with the children, who were ecstatic to get more books.
What I found out next amazed me. In this house – situated in a rough neighborhood with closed factories on both sides of the street, its windows boarded up – was a special bookcase. On that bookcase was every book I had ever bought for Tommy and his family. And Tommy, a special-needs child going into sixth grade, regularly chooses books from the bookshelf that he reads to his brothers and sister! Tommy also beamed when he told me, his former principal, "Dr. Shaffer, I did not have one single discipline referral this whole school year!"
You see, Tommy spent his last two years as my student coming to my office and reading every single day. He got hooked on reading and on Scholastic especially, and his love of reading has transformed his life.
You can tell I am a big fan of Scholastic. Here's what I want you to know: Scholastic doesn't sell books; it gives kids life. No amount of money can top that.