'Student Success Is Tied to Involving the Key Stakeholders in Their Lives'
How to Engage Families

1. Hold monthly family events at which food is offered.
2. Alternate days and times of events to give everyone a chance to participate.
3. Be able to explain to parents simply and clearly why independent reading is so important.
4. Network with your community to receive book donations that you can pass on to your students.
5. Hold family conferences in lieu of individual parent conferences to build better relationships.
6. Promote professional reading among your faculty.
7. Host kindergarten education nights.
8. Incorporate booktalks in daily morning announcements.
9. Require independent reading in class as well as at home.
10. Ensure students have access to books year-round.
Family engagement is more than just a Title 1 initiative for Principal Stephanie Brant of Gaithersburg Elementary School. It's a core priority for changing the lives of her low-income, largely immigrant student population, many of whose parents are illiterate.
"It's important to me because I believe that student success is tied to involving the key stakeholders in their lives, including teachers and parents," Stephanie explains. "It is also important because we model practices parents can implement into their homes as well as topics they can talk with their children about. This year we will focus on building background knowledge and making community connections. The engagement of our families will be critical in this work."
Stephanie requires her students to read 30 minutes every evening, so she immerses families in her school's culture of literacy from the get-go. "To kick off the school year, we have a Books & Bagels event where we have crates of books available," she says. "Then I have either a Books & Bagels event or an open house every month. I make sure my parents have access to books at least once a month. I'm constantly modeling best practices and things they can do at home with their children, but doing it in a really easy, comfortable way."
The Maryland educator made national news in 2011 when she eliminated homework in favor of daily independent reading. In addition to offering free books throughout the school year, Stephanie distributes books twice weekly over the summer in her Acura RDX, the school's makeshift bookmobile, throughout neighborhoods where her students live. Read more about Stephanie's no-homework policy and bookmobile program
here
.
The school year ends with a family field trip and a summer kickoff, where "everybody gets a book, everybody gets a bookmobile schedule, and they can make their summer reading commitment then," Stephanie says. School resumes in the fall with another reading commitment.
In addition, the Gaithersburg, Md., school holds kindergarten education nights each semester. Beginning this fall, family conferences that will resemble reading clinics will replace individual parent conferences. "So if I have a second-grader, a fourth-grader and a fifth-grader, all the teachers and family members will meet together," the principal says. "It's important to build relationships with our families, and we want to hear their stories."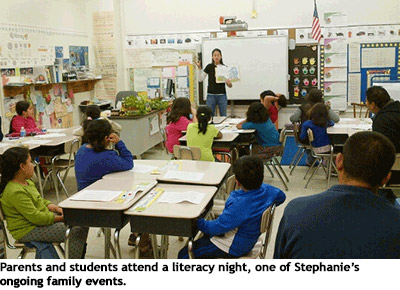 Books define the school's culture. Bulletin boards about books dot the hallways; third-through fifth-graders blog about books; booktalks are regular features in morning announcements. And don't forget the ubiquitous crates of books, all of which are donated by individuals and through community partnerships.
Since her program gained national attention, "now I have people reaching out to me left and right with donations, and that's fabulous," raves Stephanie, who recalls a resident of a nearby retirement community who recently donated 1,500 books left over from a used book sale. "This other man comes and gives me money for books. One year he brought me 700 book bags that say, 'Summer reading rocks.'"
Independent reading is Stephanie's mantra in the classroom as well as the home. She bought each of her teachers a copy of Alice Ozma's The Reading Promise – "which they really enjoyed reading," she says - and students read independently 30 minutes a day in their classrooms.
Stephanie's weapon in promoting reading is knowledge. "I did a lot of research on the power of independent reading. You can get families on board with that. When done well, it's something that's really easy to do," she says.
Another one of Stephanie's best practices is alternating times and days of events. Books & Bagels events are offered on Saturdays, and open houses are held during the school day. The variety of events encourages involvement among her immigrant-heavy school community, 82 percent of whom live in poverty.
"I had to make our community comfortable with books, and now I'm in a place where I can show them what to do with the books, which is awesome," she says.