The Online Fair Enhances Your Book Fair—Find Out Why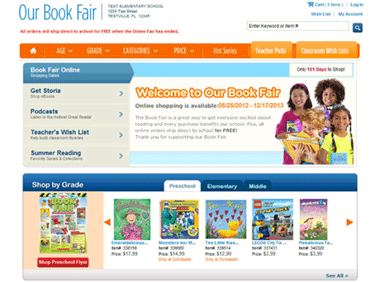 The Online Fair extends your Book Fair to more parents and allows shoppers access to a huge selection of books — all day, every day — while your online store is open. Every purchase made also increases your Book Fair total sales, and this season all eBooks purchased will increase your proceeds!
Making sure that parents know about shopping online is the key to success, so include online shopping dates and a link to your Book Fair homepage in all communications to parents. You can also arm your volunteer team with details for Online Shopping and have them wear these NEW Online Fair stickers
(located in your planning kit organizer)
.

You can find many ready-made reproducibles in your Toolkit Fair Files section to help get the word out. Here are several examples:
Customizable flyer* (Black & white and color)
Customizable bookmark*
Customizable student wristband
Send home label
Signs
*also available in Spanish
Many Book Fair chairpeople have shared creative ideas to promote online shopping. Here are some proven ways to get the word out: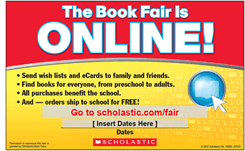 Place yard signs in car pickup area to remind parents to shop online—especially before or after the in-school Fair.
Display hallway posters with online shopping message and web link.
Print online shopping stickers on adhesive labels to place on register receipts. Make sure to include the web link: www.scholastic.com/fair.
Distribute bookmarks to students at library time or when checking out books.