All For Books™: We're All In!
By Sarah Svarda, librarian, Discovery School, Murfreesboro, Tenn.
Every year, hundreds of schools like ours participate in the All for Books™ program. It provides a great opportunity for schools to raise money that is then used toward buying additional Scholastic titles for the recipients of their choice, and Scholastic makes a matching book donation. It is a true win-win relationship!
What is All for Books?
All for Books allows your school to raise additional money, separate from your Book Fair profit, that can be used to buy books from your Fair. You can buy Scholastic books with the money you raise and then give the books away as you see fit! But it gets even better. Scholastic then matches the funds you raise, donating up to 1 million books to
Kids in Distressed Situations Inc.
, the
Kids in Need Foundation
, and other nonprofit organizations that help underserved children.
Who benefits?
You decide. We have used our funds to buy Scholastic books for our local preschool, we have bought new books for our reading interventionist, and we've bought books for our classroom libraries. Other schools have used their money to buy books to help rebuild school libraries in other states that have been destroyed in natural disasters.
Why participate?
Why not participate? Besides the program's charitable benefits, the amount you raise also goes toward your Fair totals! Plus your All for Books profits are not taxable because they're considered a charitable contribution. Win-win-win!
How?
You can promote your All for Books program in a multitude of ways. The more creative you are, the more money you will raise. Here are some of our most profitable fund-raising tactics:
Buttons: Our most artistic Book Fair CREW member designed a Book Fair button. Using our school's button machine, our student CREW worked together to produce the buttons. We then sold the buttons for a dollar each. Each time a student bought a button, his or her name was added to a weekly drawing. The student whose name was drawn at the end of the week got to be principal for a day!


T-shirts: We held a student competition to create and design a Book Fair T-shirt. We worked out a deal with our local T-shirt store and were able to make a $5 profit from each shirt that we sold. The money was then donated to All for Books. (See our school's order form here.) To create advance publicity for your Fair, you may want to start selling shirts a week before the event. Continue selling shirts the week of the Fair to anyone who missed the chance to buy one during the pre-sale.


Collect change: One tried-and-true way of collecting money is to challenge students to donate small change each day to the All for Books fund. Start with pennies on Monday, nickels on Tuesday, and so on. Let your Student CREW, under adult supervision, count the change. Then quiz your student body daily with word problems associated with the amount of money collected each day by grade level. Encourage teachers and the different grade levels to challenge each other to solve the problems and offer a board game day, extra recess, hat day, or other awards to the winning teams. Be sure to keep an All for Books change box, provided by Scholastic, at your register for donations of loose change.


Competition: Let the competition begin! We experienced our most lively competition the year we used a superhero theme for our Fair. We selected two of our favorite teachers for the role of superhero and villain. Students were asked to vote for either the superhero or villain by contributing their spare change. We posted pictures of each of the teachers throughout the school, encouraging students to cast their vote. The character with the largest coin total at the end of the week was named the winner!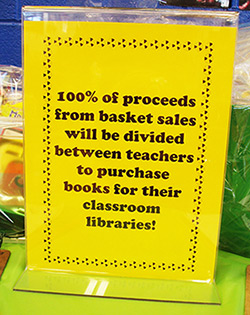 Basket auction: The basket auction is a winner! We've used it more than once, and it always brings in a lot of money. Ask your teachers to put together baskets on behalf of their classrooms. Consider asking a few of the students' families to donate one or two items to each basket, or arrange to have items donated by local businesses. After all the items are collected, the individual classroom baskets are packed and wrapped by volunteers.


The baskets can be designed around your Book Fair theme. For our Story Laboratory Fair this spring, each of our baskets was created around a science theme. We had rainy-day science, bathtub science, Angry Bird science, test-tube science, kitchen science, messy science – you get the picture. The baskets, along with a list of their contents, were on display all week in the gym. Adults were encouraged to bid on the baskets during the Book Fair. The bidding closed at our last Family Event, which was our Super Science Saturday event.
Promote
Let everyone everywhere know about your All for Books fundraiser! The more you get the word out, the more successful your program will be. You can search the
Toolkit
for promotional materials using the keyword "All for Books." Here are a few publicity tips:
1.
Make sure you use your personalized Scholastic Online Homepage to let parents know you are raising money to buy books for a worthy cause.
Repeat the announcement in your PTA newsletter.
2.
Send a letter home with each child about your All for Books program.
Inform families about the various competitions you'll have and about how profits will be used.
3.
Hang posters in high-traffic areas around your school.
Be sure to put posters where parents will see them when they're dropping off or picking up their children. And don't forget to hang posters outside classrooms, outside your library or media center, in and around your gym, and in and around your cafeteria.
4.
Be sure to let parents know that Scholastic is matching all the money you raise.
Being aware of the program's charitable benefits has helped our parents embrace the program wholeheartedly.
Sarah Svarda works as the head librarian at Discovery School in Murfreesboro, Tenn., a winner in 2012 of the National Blue Ribbon Award. She has five years of classroom experience as a third-grade teacher and served nine years as a media specialist. She earned her undergraduate degree in multidisciplinary studies (grades 1 to 8) and master's degree in instructional leadership, both from Tennessee Technological University. An accomplished Book Fair chairperson, Sarah was named the Scholastic Book Fairs® National Elementary School Contest first-place winner in 2006 (Read, White and Blue), 2007 (Reading Rain Forest) and 2010 (Book Fair Diner). She also was a second-place winner in 2008 (Book Fair Safari). Sarah shares her professional insight about reading, writing, and her favorite children's books on her blog, libraryeverything.blogspot.com.