'Wish it, Dream it, Do It!' Challenge Inspires Student Reading
Contributed by Yvonne Kittrell, Principal at Rutland Elementary School in Mount Juliet, Tenn.
She's been duct-taped to the wall, has eaten a worm, had a pie thrown in her face, spent a night reading to chickens in a coop, and even slept on the roof.
So when Principal Yvonne Kittrell challenged her students to reach 10,000 accelerated reading points, she knew she had to come up with a truly outrageous way to motivate student reading.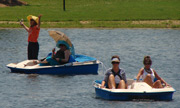 After much thought, she decided if the students met their goal she would use pedal power in a paddle boat race across Lake Providence to celebrate the thousands of books read during the school year.
"Our theme this year was 'Wish It, Dream It, DO IT!' and most years students reach about 6,000 accelerated reading points. So, we went out on a limb and challenged them to 10,000," Kittrell said.
Throughout the year, school librarian Carie Laster encouraged students to keep reading by providing special treats for each 1,000 points earned. As each benchmark was met, students were awarded dress-down days, ice cream treats, more recess time, and other incentives.
When the final tally was taken, it was no surprise that they reached their goal. And now, it was time to head down the street and watch the challenge unfold!
Kittrell and Assistant Principal Cathy York manned one pedal boat as Laster and school counselor Lynell O'Reel partnered in another to race across the lake while the student body cheered them on.
Students watched intently as a hilarious scenario unfolded on the lake. The two teams started out even, but Laster and O'Reel, unable to steer their boat, paddled themselves in circles. Later, their boat came to a stop, and Laster leisurely stood up and cast an oversized rod and reel into the lake, sending the students into hysterics. All the while, Kittrell and York's boat continued surging ahead for the win.
"I'll do anything to get them to read," Kittrell said. "Reading is essential to all learning. And we are definitely a community of readers at Rutland!"
Kids all over America are reading more and having more fun doing it, thanks to fun-loving media specialists, teachers, and principals willing to do whatever it takes to inspire more kids to pick up a book!

When your students reach the reading goal, grant them a special privilege or perform a wacky stunt!

Check out these kid-approved ideas and find many more on our What Would You Do For Reading? Website.