Student Volunteers Inspire Reading, Drive Sales
By Rhonda Boggs, Media Specialist at Sammy McClure Middle School in Dallas, GA
Would you believe that 3 1/2 years ago, I had no clue what a Student Crew was? I'd been a media specialist for close to two years and had hosted about four Book Fairs. In 2008, I was at a brand-new school and had spent the previous semester trying to set up the media center, order books, and acquire all the resources our teachers needed. At the time, the extent of my preparation for a Book Fair was to hang the posters provided in the Planning Kit, make a few announcements, and set up the Fair.
Then one day, my visiting field representative, Libby Johnson, told me about the Crew idea. After reading more about it in the Planning Kit guidebook, I recruited about 20 students who were ready and willing to serve on my first Crew. They were excited, but were also unfamiliar with the Crew idea.
We talked at length about how we could improve our Book Fairs and then selected a theme and jumped right into planning the event. Our first Fair organized by our Crew was themed "Books Gone Hollywood." Since then, we've themed every Fair, which has helped us boost our book sales.
Secret of Our Success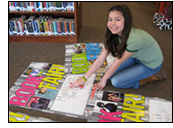 Our Fairs are primarily the result of the phenomenal efforts of our Crew. My students never cease to amaze me with their creativity, talent, ideas, and ability to generate excitement. Students know what other students like, and they know what appeals to them. Teens like anything scary and gross, video games, technology, and candy and chocolate. When you combine those things with books, students pay attention. Our students will tell you that they like being on the Crew because it's fun, they get to spend time with friends, and they like helping the younger students select books. At the same time, they're learning life lessons, such as how to set goals, plan, organize, work as a team, change the culture of their school, be a positive influence, participate in community service, and work hard to accomplish goals.
The Book Fairs at McClure have transformed our school in many ways. We have totally changed the perception of a Book Fair for our students and faculty. No longer is a Book Fair just a few posters and a display of books. Our Book Fairs are highly anticipated community events! Our students and faculty can't wait to see what we do next. Not only have our sales steadily increased with every Fair, but participation has increased and most importantly, our students love of reading has increased.
Reading Is Up
Students are more exposed to books and reading…through the Author Video that is shown with each Fair, the Booktalks that the Crew members conduct, and the commercials the Crew creates to promote the Fair. The emphasis on reading at McClure goes on throughout the year, not just during our Fairs, but our Book Fairs have enhanced the overall culture of literacy at our school. For certain, reading is our primary focus. Every student is expected to have a book with him at all times. Student volunteers on our live morning news show conduct Booktalks. Random Reading Rewards are given to students caught reading. Teachers, as well as students, are expected to read 25 books and log their reading minutes this year. Through our Book Fairs, students have learned that it's cool to read, reading is important, and there are a lot of great books available to be read.
Winning several national contests has been a great honor, and we've also earned more than $9,000 for our new school over the past three years. That prize money, as well as the funds generated from our increased Book Fair sales, has enabled us to purchase multiple class sets of books, books for our classrooms, and books and equipment for our media center. These new materials have enhanced our curriculum and allowed us to fully support our literacy program at every level of our curriculum.
As an added bonus, we won a visit from best-selling author Suzanne Collins, which created a Hunger Games phenomena at McClure. Every seventh- and eighth-grade McClure student read her book in their language arts classes before her visit. We purchased three class sets of The Hunger Games and Catching Fire for novel studies with our prize money. Students who never liked to read came to the media center begging for copies of her books so they could read them on their own. Best-selling author Heather Brewer also visited our school as a contest reward. She was generous with her time and delivered a wonderfully worthwhile message to our students. And her visit generated more interest in her book series too. That high interest level in both series would never have been achieved without our Crew and our Book Fairs.
Recruiting Volunteers
To recruit Crew members, I make announcements on our live morning news program. News members interview current Crew members to generate interest and educate prospective Crew members. Current Crew members also visit each homeroom to talk about the Crew and to distribute applications. Announcement slides running on our closed-circuit TV system promote the Crew and provide information on the application process. Once applications are submitted, a list of the applicants is sent via email to faculty members so that they can provide input and recommendations. However, nothing that I do to recruit volunteers is as instrumental as our students experiencing our Book Fairs and seeing first-hand what our Crew does. They see my Crew members on the live news, shooting commercials, handing out promotional items in the hallways, conducting Booktalks the days prior to the Fair, promoting the Fairs on the afternoon announcements, wearing their Crew shirts, working the Fair, decorating, helping with parent events, and conducting the contests. Our students see how much fun my Crew members have and the pride that they feel when our Fairs come together.
Building Community
We also use our Fairs as an opportunity to build relationships with our feeder schools. We invite students from the elementary school across the street to visit our Fair, and my Crew members help the elementary kids create books using Klutz Build-a-Book kits and assist them with other Fair-related activities. This builds excitement about attending middle school and about books, and helps me recruit future Crew members! The administration at the elementary school uses this as reward for their students and appreciates the opportunity for their students to interact with ours.
I have often said that one of the best things I have done as a media specialist is to create and use a Crew for our Book Fairs. McClure Middle School is a prime example of what can result from one small suggestion from a Scholastic representative. We are a shining example of how Scholastic Book Fairs can influence and forever change a school and a community.
Here's a look at some of Sammy McClure's past Fair themes.
Books Gone Hollywood
For our first student-run Fair in spring 2008, the Crew and I talked at length about how we could improve our Book Fairs and then selected a theme and began the planning. Our Crew came up with a "Books Gone Hollywood" theme. We hosted a red carpet premiere for teachers, and the students, by choice, wore suits and evening dresses. They served sparkling grape juice in champagne glasses, the paparazzi took pictures, and everyone, including the Crew, had a great time. The themed event helped us boost our book sales.
Books at Twilight
After a successful spring Fair, more than 65 students applied for the Crew at McClure Middle School in the fall. We selected 36 students for our Crew, who came up with the theme, "Books at Twilight," based on the popular Twilight series at the time. Our Fair was close to Halloween, so we decorated with scary things like spiders and webs and a moving Dracula. We also had a Fear Factor Room for students who purchased $25 or more.
After the Fair, I decided to enter our Crew in Scholastic's National Student Crew Contest and asked two Crew members to write the required essay. We placed second in the contest for our Books at Twilight Fair. (While we were thrilled to finish second in the contest, it was not the original intent of our Fair. Our true goal was to generate excitement about reading.)
Wii Love Books
Our spring Fair theme was "Wii Love Books." because just about every teenager I knew had received a Wii game for Christmas. We made miis of every staff member and then decorated with CDs, large iPods with book titles for the play list, large Wii remotes and the teacher miis. We then hosted a parent workshop on Technology Safety. We held a Guitar Hero contest for all students who purchased $25 or more and even had one of the Assistant Principals duel the student winner in Guitar Hero when we reached our goal. Our middle school students loved it! We once again won second place in the National Student Crew Contest. This time, along with increasing interest in reading, we had hoped to win first place.
Phantom of the Book Fair
In fall 2009, 126 students applied for the Crew. It became the club to be a part of at McClure. The eighth grade members of the Crew selected the theme, "Phantom of the Book Fair." We decorated with sheet music, fans, a large boat, roses, and chandeliers, and hosted a Masquerade Madness teacher preview during which a former drama student dressed like the phantom and sang music from the Broadway show.
We served French food and provided masks for teachers as they created their wish lists. We held a silent auction that raised about $800 for One for Books and hosted a Mask Day for all the students. Students who purchased $25 or more won a trip to the Phantom's Underworld, where a professional storyteller led students through scary passages. Our principal dressed as the phantom when we reached our sales goal. We increased our sales and donations for One for Books and finally won first place in the national contest! We were thrilled to finally meet our goal. Having accomplished our goal, we begin to think about our next goal. To my knowledge, no middle school had ever won first place twice in the same year, so winning again became our new goal.
Charlie and the Book Factory
For our spring Fair, I once again asked our eighth grade students to select the theme. They chose "Charlie and the Book Factory," which combined two of my favorite things – books and chocolate. To advertise the Fair, we sold candy bars containing five golden tickets. The tickets were good for $10 at the Fair and the used the proceeds for One for Books.
We decorated the Fair with large candy bars, Oompa Loompas, a chocolate fountain and large candies. We hosted an Oompa Loompa Teacher Palooza preview and served Oompa Loompa food and lots of chocolate. Students could purchase top hats and wear them on Oompa Loompa and top hat day. We turned our principal into an Oompa Loompa and hosted an Augustus Gloop doughnut-eating contest for two students and our principal on the live morning announcements.
Students who purchased $25 or more received a trip to the Candy Tasting Room, where they could sample sour, sweet, and spicy candy, as well as chocolate covered insets. This was one sweet Fair, and to our surprise and delight, we won first place again in the national contest.
Bookopoly / It's a Crime Not to Read
Because I had so many students applying for the Crew, I decided to select the following year's Crew ahead of time. I rely heavily on teacher recommendations, so selecting the Crew based on their advice is very helpful. More than 70 students applied for the 2010-11 Crew, and 45 were chosen. They executed two fabulous Fairs, "Bookopoly," which earned us a second place award in the national contest and "It's a Crime Not to Read," which earned us our third first-place title!
This spring, more than a hundred seventh and eighth graders applied to be on the Crew and 54 were selected. I can't wait to see how creative they will be and what themes they select.
When a Scholastic representative suggested BFC Rhonda Boggs recruit a Student Crew to help with her Fair a few years go, she wasted no time recruiting a team of 20 energetic students. Since then, her Crew has quadrupled in size, her Fairs have become the most anticipated school events of the year, and Sammy McClure has been nationally recognized for its efforts…multiple times!