Student Reading Ambassadors Create School Wide Culture of Reading
Contributed by Dr. Richard Hutnik, Principal at Sammy McClure Middle School in Dallas, Ga.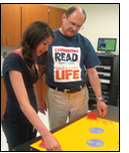 With the help of its
Student Crew
, Sammy McClure Middle School in Dallas, Georgia, won Scholastic's national Book Fair contest three times over the past three and a half years, helping to create a culture of reading that promises to bring a lifetime of returns to students.
The goal of Principal Dr. Richard Hutnik has always been to encourage students to "enjoy reading for the sake of reading" to make them as proficient as possible as readers.
Toward that end, the formation of McClure's
Student Crew
has been absolutely critical to the success of the school's reading goals, Principal Hutnik said.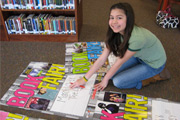 "The students who help organize the fair are probably the biggest ambassadors for reading we have in the building. They tell their friends and other students, and word gets around quickly at each grade level as to what they are planning for the Book Fair. This generates widespread interest and excitement for reading," Principal Hutnik shared.
For example, last year the
Student Crew
created the Book Fair theme "It's a Crime Not to Read." After asking around the community, the students were able to get someone to donate an old police car – quickly named the Barney Fife car – which the crew then set up in front of the school in full view of parents dropping off their kids for school. To "raise the noise level" about the Book Fair, crew members would occasionally sneak into the car and set off its siren.
During another Fair, crew members came up with a "Bookoply"-themed Book Fair based on the Monopoly board game. As part of the Fair's promotion, the crew featured a large picture of Principal Hutnik on fake dollar bills.
During each Book Fair, Chairperson Rhonda Boggs "volunteers" Principal Hutnik to serve as a promotional prop.
"On one occasion, Rhonda talked me into dressing up as an Oompa Loompa for our "Charlie and the Book Factory"-themed fair. During another Fair, the crew members dressed me in a county jail uniform and put me in jail. As parents and students entered the Fair, I would yell, 'Hey I was framed. Get me out of here.'"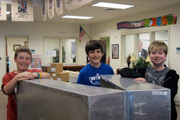 Participation on the
Student Crew
gives students a chance to learn real-life skills, said Chairperson Boggs.
"The kids are learning life's lessons, such as how to set goals, plan, organize, work as a team, and participate in community service – which all combine to change the overall culture of our school and the students' attitude toward reading," Boggs said.
Members of the
Student Crew
couldn't agree more.
"We learn how to play a leadership role, and also how to follow other leaders' instructions in order to get the best work done. Being on the crew has taught us how to work well together, and we've learned to do different things by serving on different committees," said Emory.
Fellow crew member Amanda agrees: "Being on the
Student Crew
helps me learn how to set goals, to work toward them, and to keep working toward them. It's so awesome to see the final result."
Best Practices to Increase Student Reading
Along with its Book Fairs, McClure conducts other reading campaigns designed to promote a culture of reading throughout the year.
For example, the school now hosts a monthly "Readers Breakfast of Champions." Once a month, language arts teachers nominate students who have demonstrated a commitment to reading. Those students are then invited to the media center for a breakfast snack with a guest speaker. They also receive a certificate and a "love to read" cup and pencil.
McClure also hosts "Readers are Leaders" events, in which invited guest speakers, including district officials, community professionals, and even high school students, speak to students about the importance of reading to success in school and in life.
"During these events, we're trying to stress the fact that men and adults read, and that it is an important skill students will use throughout their entire life," said Principal Hutnik. "Eventually the kids begin to see that even though these are professional, successful adults, they also love to read just for the pleasure of reading."
Students also give monthly book reviews during the school's morning announcements. A different student each week will give a one- to two-minute summary about a book they have recently read.
The school also holds a year-round "Get Caught Reading" program in which Principal Hutnik gives away coupons from Chick-fil-A.
"While walking around school if I see somebody reading, whether it's in the hallway, the classroom, or the lunch room, I give them the coupon for a free breakfast sandwich."
Through its imaginative
Student Crew
-directed Book Fairs and special reading campaigns, McClure has created "a true culture of reading," according to Principal Hutnik.
"The Book Fairs and special reading campaigns throughout the year have transformed our school in many ways. We emphasize reading at McClure all year long, but our Book Fairs have enhanced the overall culture of literacy at our school. Students have learned that it's cool to read, reading is important, and there are hundreds of great books available to them."